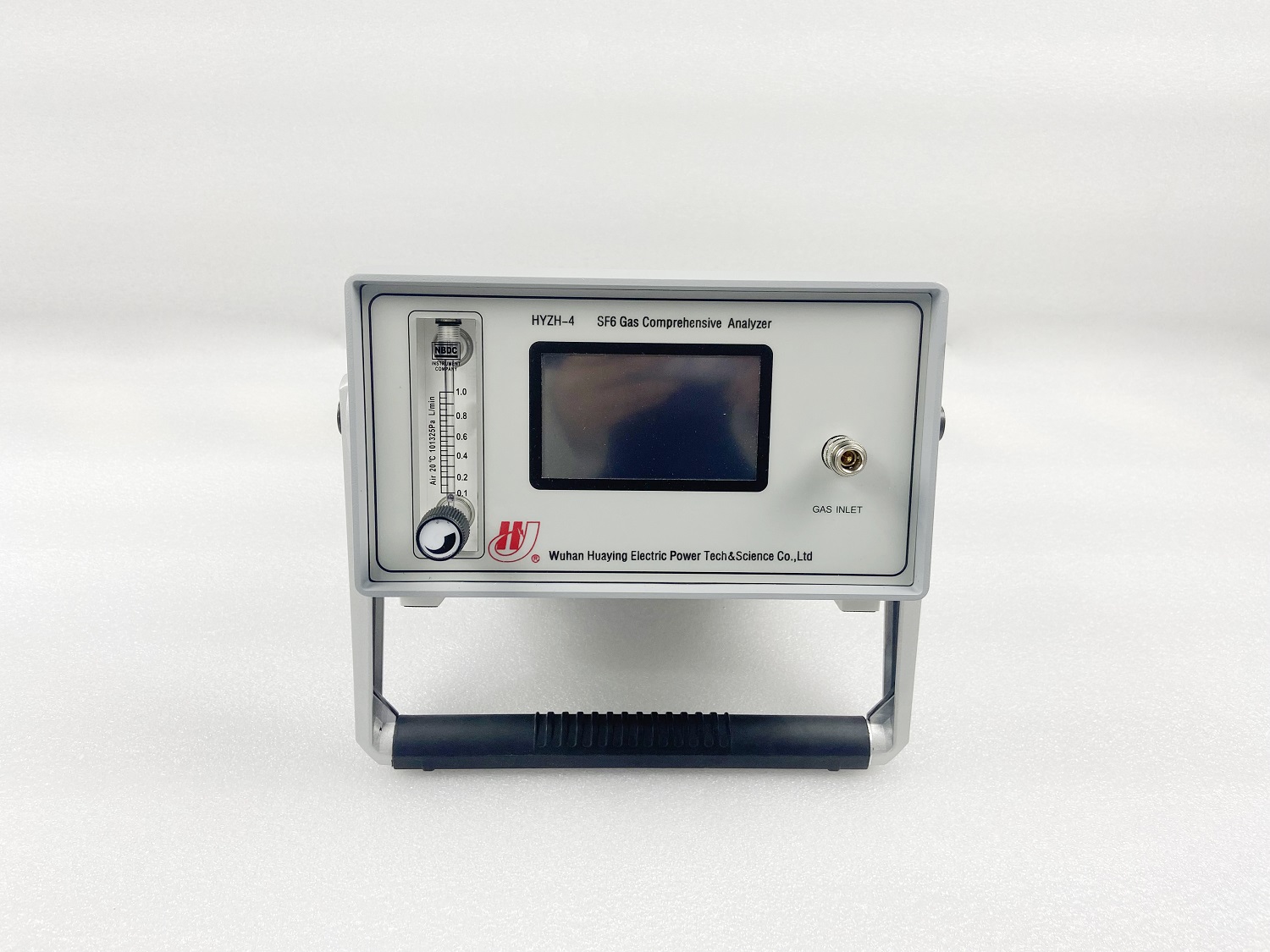 SF6 Gas Comprehensive Analyzer HYZH-4
The SF6 gas comprehensive analyzer is a combination of SF6 gas micro water meter, SF6 gas purity instrument and SF6 gas decomposition product analyzer, and the functions that were realized with three instruments are concentrated in one instrument. With one on-site measurement, three indicators can be tested, and the gas in the equipment is greatly saved. One measurement saves 2/3 gas consumption, while reducing workload and improving work efficiency.

Contact Us
Features
• Fast and gas-saving
• Self-locking connector: It adopts Germany imported self-locking joint, which is safe and reliable without leakage.
• Data storage: large volume is designed to store as many as 200 groups of data.
• Curve display: dew point measurement curve is showed on a big screen.
• Distinct display: dew point, micro vapor( ppm), environment temp. and relative humidity, time and date etc. are displayed directly on a colorful screen.
• Built-in battery: The built-in 4Ah rechargeable Lithium battery is capable to work continuously over 10 hours after fully charged.
Technical Specification
Purity

Measurement range

0%~100%

Measurement accuracy

±0.5%

Measuring time

<2 minutes

Dew point

Measurement range

-80 ℃~+20 ℃

Measurement accuracy

±1℃

Response time
(+20℃)

63% 5t,90% 45t(-60℃~+20℃)
63% 10t,90% 240t(-80℃~-60℃)

H2S

Measurement range

0~100ppm

Minimum detection

≤0.1ppm

Accuracy

±0.5%

Stability

0~100ppm

Repeatability

≤2%

SO2

Measurement range

0~100ppm

Minimum detection

≤0.1ppm

Accuracy

±0.5%

Stability

0~100ppm

Repeatability

≤2%

Ambient
temperature

-40℃~+60℃

Relative humidity

0~100% RH


Power supply

AC 220V

Built-in rechargeable battery

Battery
performance

Charging for 20 hours, you can use it for 10 hours or more.

Weight

5KG

Dimensions

250×150×300mm3

Temperature in
operation

-40℃~+80℃
Service commitment
Pre-sale service commitments

Sale service commitments

Sale service commitments