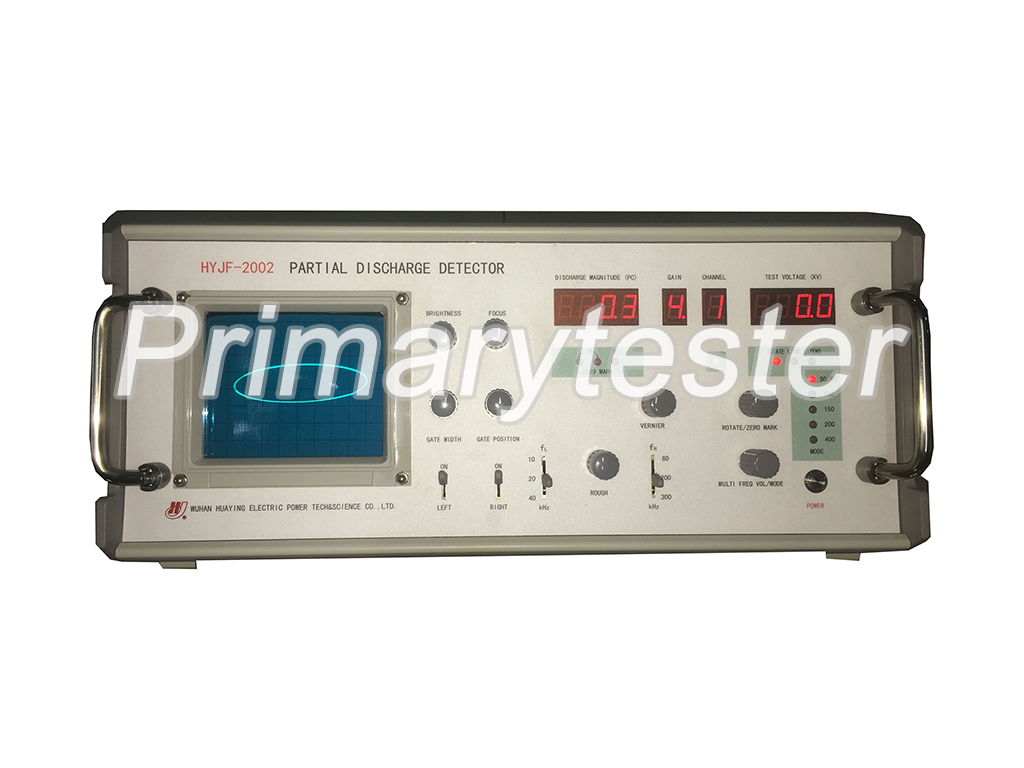 Partial Discharge Detector HYJF-2002
HYJF-2002 partial discharge detector is based on the standard of IEC and advanced theory of partial discharge. It fits for many products. It is suitable for partial discharge measurement of high voltage test equipment and high voltage apparatus. HYJF-2002 is a powerful tool for developing new high voltage electric products and improving the quality of the products. It is also an efficient testing device to judge the work condition of equipments on the work field.

Contact Us
Features
1. The device has pointer/digital display and linearity /digital function.

2. The amplifier has large dynamic range, 9 kinds of frequency band combinations.
3. The device has high sensitivity, high S/N, a large screen which has clear testing wave displaying, high frequency ellipse scan (the power is less than 1VA), and auxiliary zero marking system.



Technical Specification
1. Capacitance range of measured piece 6pF~250uF
2. Measuring voltmeter
Measure range 100kV (with 100kV voltmeter resistance R)
Display: 3.5 bits LED digital.
Deviation: ±3%
3. Structure
Dimension: 530×550×220(mm)
Weight: 22kg
4. Measuring sensitivity and max. current:

No.

Tuning capacitance range

Sensitivity (pC)

(Un-balance circuit)

RMS of max. current

(Un-balance circuit)

(Balance circuit)

1

0~25~100pF

0.02

30mA

0.25A

2

25~100~400pF

0.04

50mA

0.5A

3

100~400~1500pF

0.06

120mA

1A

4

400~1500~6000pF

0.1

0.25A

2A

5

1500~6000~25000pF

0.2

0.5A

4A

6

0.006~0.025~0.1uF

0.3

1A

8A

7

0.025~0.1~0.4uF

0.5

2A

15A

8

0.1~0.4~1.5uF

1

4A

30A

9

0.4~1.5~6.0uF

1.5

8A

60A

10

1.5~6.0~25uF

2.5

15A

120A

11

6.0~25~60uF

5

25A

200A

12

25~60~250uF

10

50A

300 A

7R

Resistor

0.5

2A

15A
Service commitment
Pre-sale service commitments

Sale service commitments

Sale service commitments