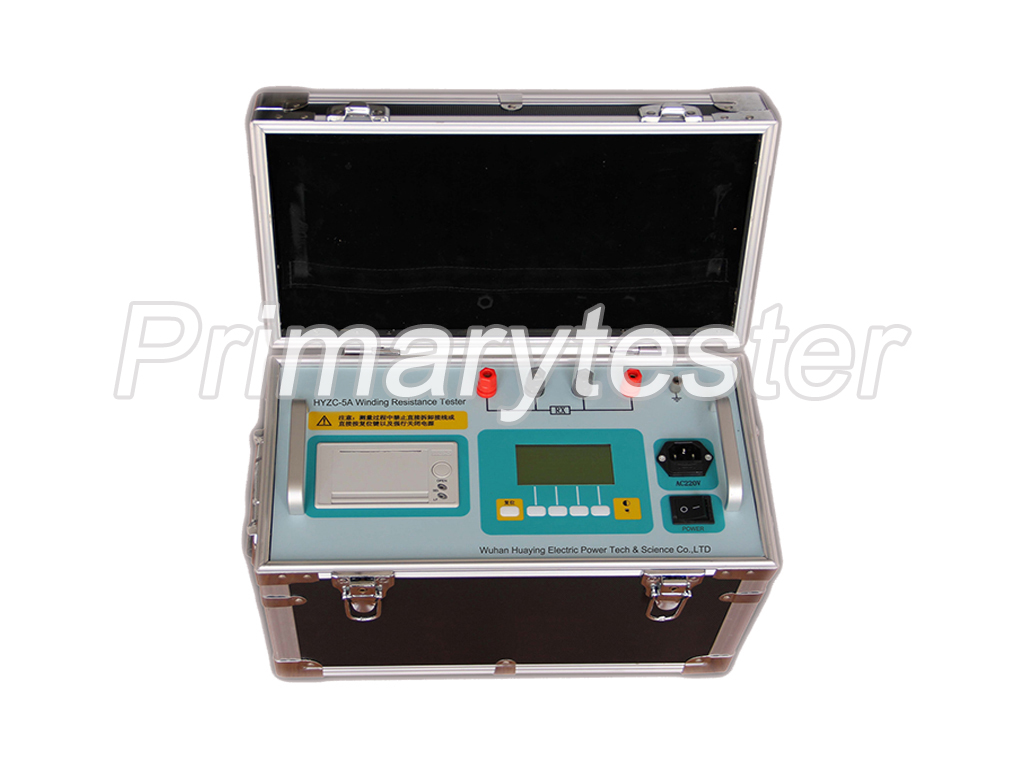 Winding Resistance Tester HYZC-5A
The HYZC-5A winding resistance tester ( Micro ohm meter) is a high accuracy replacement of the dc single, double armed bridge. The instrument adopts the advanced switch power supply technique, displaying measurement result by 240×128 LCD. It overcomes the weakness of inconvenient reading of the LED in the sunlight of the similar products, having the function of automatic arc-suppressing at the same time.

Contact Us
Features
1. This instrument has the advantages of high speed and accuracy, visual display, strong anti-interfere, small size, low power consumption, stable reading, and not to be influenced by artificial factor.

2. It is an ideal instrument to measure inductive load resistance of electric power transformer and large electrical machine, contact resistance of low voltage switch, and resistance of electric wire and cable or welding-line connection.

3. Its speed is more than 100 times of the bridges.



Technical Specification
1) Application condition:
Ambient temperature: 0 ℃~ 40 ℃
Relative humidity: ≤ 85% RH
2) Ranges: 1mΩ~20mΩ, 20mΩ ~ 200mΩ, 0.2Ω ~ 2 Ω, 20Ω ~ 200 Ω, 200 Ω~ 2kΩ
3) Accuracy: 0.2 level
4) Resolution: 1 μΩ
5) Constant output: 5 A(1μΩ~ 2 Ω ), 0.5 A(2 Ω~ 200 Ω ), 0.005 A(20 Ω~ 2000 Ω )
6) Working voltage: AC 220 V.
7) Power consumption: ≤85W
8) Size: 350mm(L)× 2600mm(W)× 140mm(H)
9) Weight: 3kg
Service commitment
Pre-sale service commitments

Sale service commitments

Sale service commitments