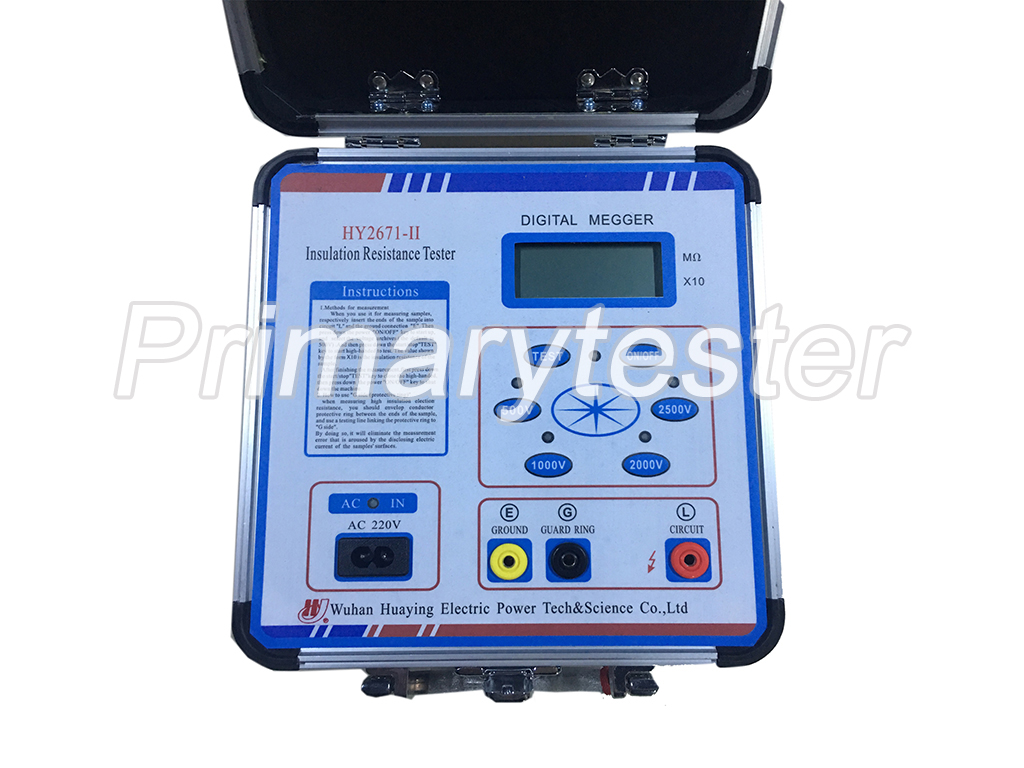 Insulation Resistance Tester HY2671-II
The instrument is the commonly used and essential instruments for the electricity, post and telecommunications, communications, electrical and mechanical installation and maintenance, and the use of electricity as industrial power or energy industrial enterprises. It is suitable for measuring the insulation resistance of various insulating materials and transformers, motors, cables and electrical equipment.

Contact Us
Features
1. High output power, strong load capacity, strong anti-interference ability.

2. The instrument consists of high-strength aluminum alloy. It is equipped with equipotential protection ring and fourth-order active low-pass filter, which can play an effective shielding effect for the external power frequency and strong electromagnetic field.

3. For capacitive test measurements, due to the output short-circuit current is greater than 1.6mA, it is easy to make the test voltage quickly rise to the output rating voltage.

4. For low resistance measurements, due to the use of proportional method design, the voltage drop does not affect the test accuracy.

5. The instrument does not require human work. It is powered by the battery, and the range can be automatically converted. A clear panel operation and LCD display makes the measurement very convenient and quick.

6. The output short circuit current can be measured directly, and it does not need to estimate with load measurement.



Technical Specification

1. Use condition
Ambient temperature: 0 ° C to + 45 ° C
Relative humidity: ≤85% RH
2. Output voltage level, measurement range, resolution, error
Model

Output voltage level

Measurement range

Relative error

Resolution

2670

100V,250V

500V,1000V

1~1999

MΩ

≤±5%±1d

0.001MΩ,0.01MΩ

0.1MΩ, 1.0MΩ

2671

500V,1000V

2000V,2500V

1~19990

MΩ

≤±5%±1d

0.01MΩ,0.1MΩ,

1.0MΩ,10.0MΩ

2672

500V,1000V

2500V,5000V

20~1999

GΩ

<±10%±1d

0.01MΩ,0.1MΩ

1.0MΩ
3. Output the highest voltage carrying capacity and short circuit current
| | | | |
| --- | --- | --- | --- |
| Model | Voltage/ Load | Voltage sag | Short-circuit current |
| 2670 | 1000V/2MΩ | Approx. 10% | >2.0mA |
| 2671 | 2500V/20MΩ | Approx.10% | >1.6mA |
| 2672 | 5000V/20MΩ | Approx.10% | ≥3.0mA |

4. Power supply range, power loss
DC: 7 ~ 9V (7 5 # rechargeable battery pack) external AC 220V power supply for charging.
Power consumption: static power ≤ 160mW; maximum power ≤ 2.5W
5. Size and weight
Size: 220mm×200mm×105mm;
Weight: <1.4kg
Service commitment
Pre-sale service commitments

Sale service commitments

Sale service commitments