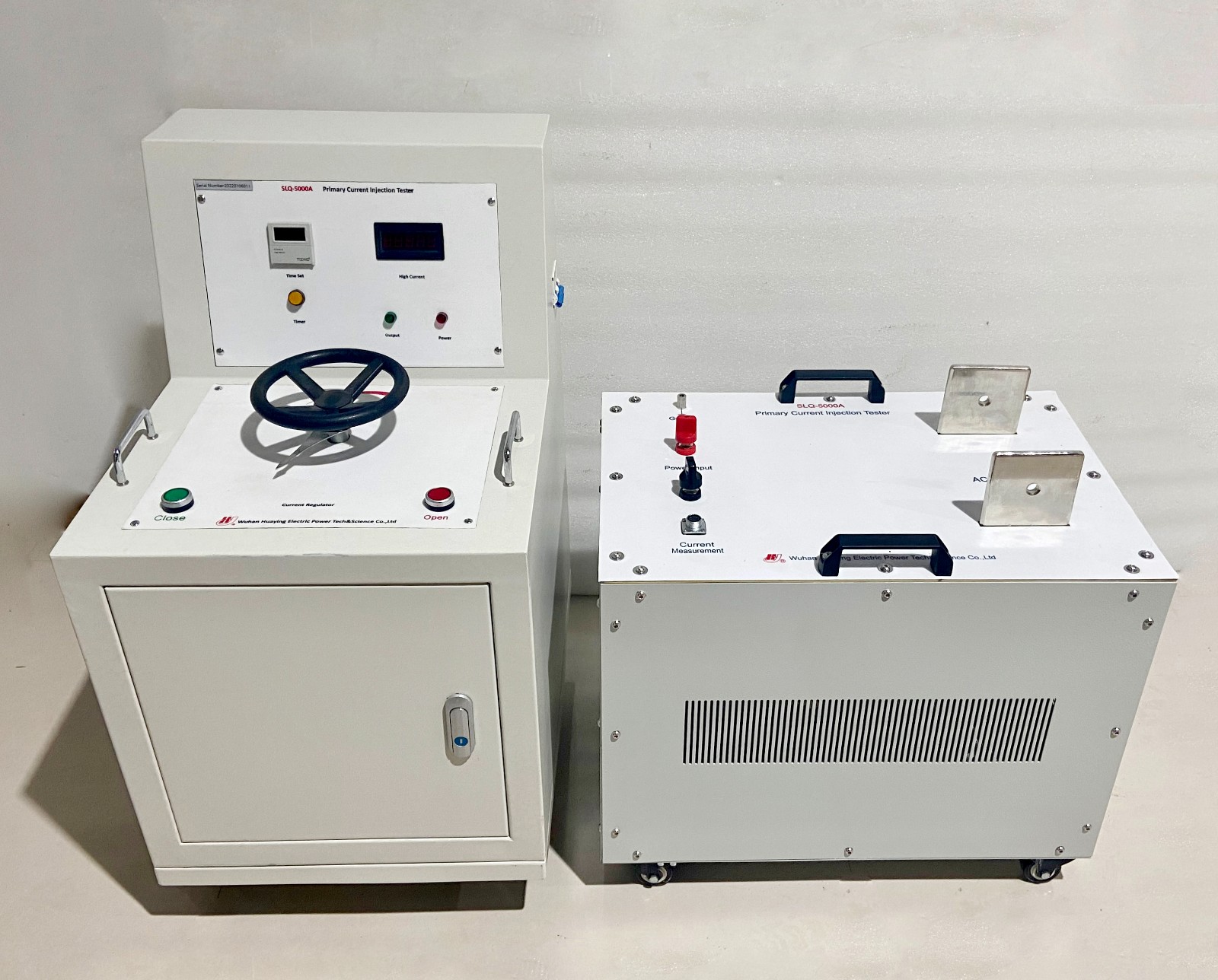 Primary Current Injection Tester SLQ (separated)
SLQ series primary current injection tester is applied in power system for circuit breaker test, protection system test and current transformer test. The current injection tester generates a high current from power supply to simulate the rated current or fault current in the primary circuit of power equipment.

Contact Us
Features
Functions and features:

1) High current output is injected to the main circuit of power line to simulate the fault current. And then check whether the protection system will be operated according to the design.

2) High current output is injected to the primary of current transformer and then measure the inducted current from secondary by error measurement instrument to check the ratio error and phase displacement of CT.

3) High current output is injected to the main circuit of circuit breaker to simulate the rated current in primary. And then check the stability of circuit breaker according to the temperature rise procedure.

4) It is considered as a AC high current source in power equipment or cable test.

5) It's characterized as polar-less adjustment of output current, stable increase of current, large scope of load variation, reliable function, easy and safe operation and etc.

6) It's ideal to adopt as current source equipment for current/temperature increase of industrial and mining equipments.



Technical Specification
The display mode of current is customized according to the requirement of customer from the follow list:
1> Analog current meter, accuracy class 0.5
2> 4 and 1/2 digitals current meter, accuracy class 0.5
Timer indication of test running is an optional configuration. The timer could be customized according to the requirement of customer from the follow list:
1) 4 digital timer from 0~9999s / 0~999.9s /0~99.99s, accuracy 0.5%RDG+5D
2) 5 digital timer from 0~99999s / 0~9999.9s /0~999.99s, accuracy 0.2%RDG+2D
3) 6 digital timer from 0~999999s / 0~99999.9s /0~9999.99s, accuracy 0.1%RDG+1D

Table 1 Detail configurations for different model current injection tester
Model

Rating capacity
(KVA)

Rating input of
control unit

Rating output of booster

Impedance voltage %

Idle current %

Mode of structure

Booster

Controller

Current

(A)

Voltage

(V)

Current

(KA)

Voltage

(V)

SLQ-8/2000

8

8

36.4

220

2

4

>8

>6

Separated

SLQ-10/2000

10

10

46

220

2

5

>8

>6

Separated

SLQ -12/3000

12

12

55

220

3

4

>8

>6

Separated

SLQ -12/4000

12

12

30

400

2/4

6/3

>8

>6

Separated

SLQ -15/5000

15

15

37.5

400

2.5/5

6/3

>8

>6

Separated

SLQ-24/6000

24

24

60

400

6

4

>8

>6

Separated

SLQ -28/7000

28

28

70

400

7

4

>8

>6

Separated

SLQ -150/25kA

150

150

375

400

25

6

>8

>6

Separated
Service commitment
Pre-sale service commitments

Sale service commitments

Sale service commitments