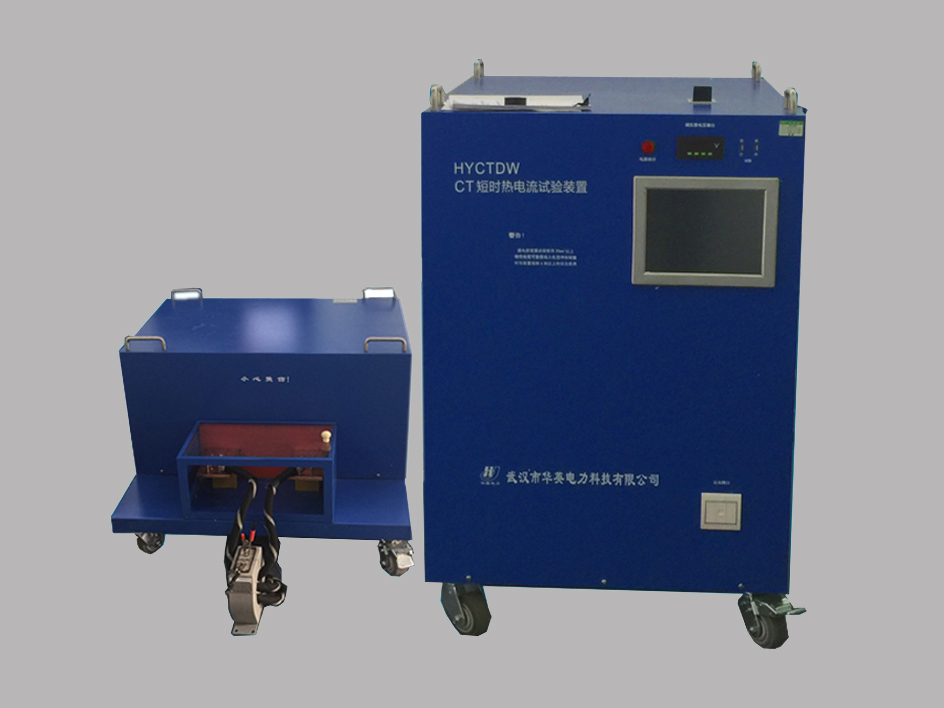 Short-time Thermal Current Test Set HYCTDW
Automated short-time thermal test set can be applied to conduct high thermal current test for CT, circuit breaker and other primary equipment of power system. The tester has the following advantages: volume and weight reduction, low cost, full-automatic short-time thermal current, easy and safe operation, etc.

Contact Us
Features
1. As compared with the test system in LCR charging and discharging mode, volume and weight of the device, as well as cost, have been reduced significantly.

2. The device measures impedance of primary sample circuit, and automatically controls its output current to target current based on measurements.

3. When the required test output capacity exceed maximum output of the device, I2t equivalent test method is applied automatically to make the test feasible.

4. The test is fully automated. The control circuit of device monitors all signals of test circuit such as primary circuit current, primary circuit voltage, voltage and current of internal variable transformer and system line voltage.

5. The test process is simple and quick, and values and time curves of various signals during test, including primary circuit current, primary circuit voltage and output voltage of device voltage regulator are recorded and stored.



Technical Specification
Maximum output current

0~25000A (greater output current is customizable), output current error is
less than 10%% of set value

Output capacity

250KVA (customizable)

Current of sample primary circuit

0~25000A, with measurement error of 0.1%FS

Voltage of sample primary circuit

0~10V, with measurement error of 0.1%FS

Voltage and current waveform sampling rate during test

25 kHz, with time measurement error of 0.04ms

Power supply

AC380V 45Hz~65Hz

Operating temperature

0~50 ℃, humidity is less than 90%
Calibration certificate of Short-Time Thermal Current Test Set HYCTDW issued by Hubei Institute of Measurement and Testing Technology
Service commitment
Pre-sale service commitments

Sale service commitments

Sale service commitments